Van Jaarsveld and Brasecke apply extensively researched top-down proprietary models to both global and local mandates
 Read more
INVESTOR VIEWS: HedgeNews Africa polled leading hedge fund allocators at our recent annual Investor Survey. Here's what they had to say.
EDITOR'S LETTER
Investment managers may be the 'sizzle factor' but these days, many others are involved in operating a hedge fund business
Read more
NEWS
Over the next six months, 83 funds will be converted from unregulated structures to CISCA-governed funds, to sit on IDS' retail and qualified investor platforms
Read more
FUND OF FUNDS TABLES - APRIL 2016
South African funds add a median 1.94% for the month
Read more
SINGLE-MANAGER TABLES - APRIL 2016
FTSE/JSE All Share Index climbs 6.44% in March
Read more
Data Alerts
To receive HedgeNews Africa monthly
data alerts
via email please fill in your details below
2015 Awards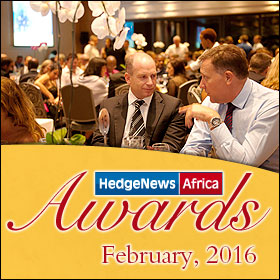 Cape Town, Feb 25, 2016
The next HedgeNews Africa Awards will be held on February 25, 2016. Click here to see who took this year's honours.
Cape Town, Feb 25, 2016
The HedgeNews Africa Symposium 2016 will be held on February 25, 2016 at the Vineyard Hotel in Cape Town. For full coverage of the 2015 Symposium, click here.
News Alerts
To receive HedgeNews Africa monthly news alerts via email please fill in your details below